WOODS HOLE – It is as if the geodesic spaceship that landed in Woods Hole in 1953 has been abandoned, and now no one knows quite what to do with it.
The Dome, built in 1953 by the late visionary Buckminster Fuller, remains an incongruous piece of look-at-me futuristic architecture in this quaint New England village. Now there is a deserted, 'Planet Of The Apes' overgrown feel to the building.
The future has gotten old. It has not been used for more than a decade.
The Dome, built in 1953 by the late visionary Buckminster Fuller, remains an incongruous piece of look-at-me futuristic architecture in this quaint New England village. Now there is a deserted, 'Planet Of The Apes' overgrown feel to the building.
The Dome is considered by some to be an architectural treasure. Because of regulatory stipulations, it can't be torn down. And because of that, a local group is hoping to find a way to work with the owner to get it renovated and then repurposed as an arts center.
There is a sale is pending on the 5-1/2 acre property that includes other structures that do not have to be saved – a restaurant expansion to the Dome building, and the Nautilus Motel, built in the 1950s.
Jim Fox, a real estate broker with Kinlin Grover told Cape Cod Wave, in an email that the Dome property is "under agreement. I represent both buyer and seller. No other comment at this time," wrote Fox.
It is unclear what is planned for the property. But the Dome itself will apparently stay forever.
"It's an albatross on the property," said Nicole Goldman of the Dome itself. Because the Dome must remain, she said it is something of a hinderance to any future development of this prime piece of Woods Hole real estate.
Goldman lives near the Dome and is the project manager for a informal group hoping to restore and adaptively reuse the Dome as an interdisciplinary arts center.
Her general idea/hope, since the unusual building cannot be taken down, is to have a non-profit group use about a one-acre portion of the property for the arts center, while the developer would create a plan to build on the rest. "The whole project is in limbo until ownership of the property is sorted out," she said.
Goldman is hoping the building can be repurposed for a public use. "It's a very unusual structure with immense historical and architectural significance," said Goldman.
It's also in terrible shape.
While the long-closed Dome building still looks futuristic, it also shows the decay of a building whose time has long passed. A sprinkler malfunction has damaged the inside. The rubber paint used to seal leaks on the outside is cracking and faded.
Just prior to the recession of 2008, there was a plan to develop the property as 55+ housing. And then the crash happened and the development was never built.
The Cape Cod Commission had approved that plan with the stipulation that the Dome, as a unique piece of historical architecture, must be preserved.
The irony of nostalgically preserving the futurist's decaying project is not lost on any of the three people Cape Cod Wave contacted who met Fuller.
---

NOTE TO READERS: If you like this kind of journalism and want it to continue on Cape Cod, please support Cape Cod Wave Magazine.
There is a donation button at the top of every page.
Thank you for reading Cape Cod Wave, and stay safe!
– Laura & Brian

---

Bucky
"Bucky and his wife came and lived at our house in Quissett for the summer of '53 while they built The Dome, and he personally supervised the building of The Dome," recalled Joel Peterson, whose father, architect E. Gunnar Peterson, hired Buckminster Fuller to build a new restaurant as a geodesic dome. At the time, Peterson was 12 years old.
"As a kid, I knew him," said Peterson. "He was grandfatherly at the time. He spent a lot of time with me as a kid. He bought me my first camera and taught me how to use it."
For the whole summer, Fuller supervised construction of the Dome while "students from MIT and other schools, but mostly MIT, built it," said Peterson.
"He was a dreamer," said Peterson. "I don't know that he made a lot of money at any time. He certainly lived modestly. Part of the deal was we had to put him up."
Hap Klopp, who owned the iconic outdoor brand, The North Face and hired Fuller to make a geodesic tent, recalled Fuller as someone who "loved the Cape. He loved sailing," said Klopp, who lives in Berkeley, California. (Klopp has co-authored three books with Brian Tarcy of Cape Cod Wave.)
"He claimed to have gotten kicked out of Harvard for spending too much time with party girls. So, he went to the beach on the Cape and planned to walk out into the ocean and end his life," said Klopp.
"While there on the beaches he had an epiphany that his real calling was to actually change the world.  At that point he dedicated himself to doing so. He also dedicated himself to never worrying about money, knowing that good ideas would somehow get him funded," said Klopp.
"I was very fortunate," said Arne Grepstad, who started working at the dome in 1973, and continued there for decades, eventually buying restaurant, not the building, in 1987. "I actually got to meet Bucky Fuller," he said.
"He used to come back to Falmouth," said Grepstad. "He was involved in a project at the New Alchemy Institute, where he was trying to raise the most amount of food on one piece of land that he could."
"Whenever he came back to Falmouth, he would go back to Woods Hole because, as he said, he wanted to look in on his baby," said Grepstad. "He would come back and we would walk around. One time, he said, 'As an old man, I realize the Dome actually worked.'"
"He had thoughts of enclosing a complete town in a dome," said Grepstad. "He was forward thinking, eccentric."
"My father thought he was a genius," said Peterson of Fuller. "He was a renaissance man… He was very much out of the box before anyone knew they were in the box."

The Dome
Peterson said his father, E. Gunnar Peterson, was an architect who had a dream of owning an inn and a restaurant on Cape Cod. Peterson said his father contacted Fuller because "domes in 1953 were unique."
Prior to the Woods Hole Dome, Fuller had only built one other geodesic dome, at the iconic Ford Rotunda in Deerborn, Michigan. The Ford Rotunda burned down in 1962, leaving the building in Woods Hole is Fuller's oldest surviving geodesic dome.
"I've always said it's probably the most historic building on Cape Cod," said Peterson. "It's the oldest Bucky Fuller geodesic dome in the world."
Fuller arrived in Woods Hole having just completed work on one of the biggest tourist attractions in the Midwest. Building the dome at the Ford Rotunda was, apparently, a big deal.
In Woods Hole, the Dome "was built in sections," said Peterson. "The top section was dropped in by helicopter. Not because they had to, but because it was newsworthy."
When it was first built, "everybody hated The Dome," said Peterson. "There was vandalism. It was bad, sort of like hating Trump now. Everybody was against it. This was awful. It was going to ruin the town as we know it. It was too modern."
And then, as Grepstad said, "Fifty years does a lot of funny things."
By the time the restaurant closed in 2002, Grepstad recalled that some of the same people who he had always heard opposed its opening in 1953  wanted the Dome preserved.
"I don't want to go out and use any names, but a husband and wife who were very much against it when it was built then said, 'Oh my God, you can't take it away,'" recalled Grepstad.
And Peterson added, "It's ironic. The grandchildren of the people who were opposing it are not only in favor of it, but hampering the sale."
In fact, it's the restrictions on the building that Peterson called the most historic on the Cape, that certainly pose a giant financial obstacle to development.
"I feel bad for the owners," said Peterson. "It doesn't have an incredible amount of uses as it stands. If I wanted to preserve it, I wouldn't have sold it. I respect the owners right to do whatever the hell they want, much like I would have done."
Peterson said he was pushed for years to put the Dome on the National Historic Register. "I didn't want to go to Washington if I wanted to paint the front door different," he said. "You have to get an act of Congress to do anything. It was just another hoop to jump through that I had no interest in."

It's Alive, The Futurist's Aging Dream
"The building moves," said Peterson. "Bucky made up the word, 'geodesic.' There are no pillars. One section is pushing on the other. If you are in there and it's quiet, it's moving all the time. It's like the building is alive."
But Peterson said those swaying pieces, put together "like a jungle gym," caused a problem that Peterson's parents, Peterson, Grepstad, and subsequent owners until it closed all dealt with: the building leaked.
In fact, the building underwent a number of changes, starting with the original mylar shell, which let too much sun in and blew off in the hurricane of 1958, said Grepstad.
The mylar was replaced with fiberglass, and then much of the top of the outside of the Dome had to be painted with a rubber paint to stop the leaking. "Instead of cracking, it would stretch as the Dome moved. It helped, but it did not eliminate the leaking.
"One of the biggest problems was that it always leaked," said Grepstad. "One Saturday night we were filled to the gills with people when it started leaking and someone at table 11, with four people, opened an umbrella to complete applause in the restaurant."
"There is no question I am sad to see the condition of the building," said Grepstad. "But whether it should be saved, saying this building has to be saved, I'm not on that side."
He said maybe it could be relocated to MIT.
Peterson also wondered about the wisdom of saving the building. "If the town thinks it should be preserved, they should damn well buy it and preserve it. To say the owner has to preserve it, that's not fair," said Peterson.
Meanwhile, Goldman is hoping that if the sale goes through the new owner will work with her group to find a public use for the building that must be preserved. What it is used for will be up to the owner.
She said she has approached various non-profits and historical groups that have expressed an interest in helping find funding to take over some sort of renovation and repurposing.
But, she acknowledged, for that to happen there would have to be an agreement with the owner, whoever it ends up being.
Goldman said her group has big pie-in-the-sky plans for an innovative contemporary art center with "a small permanent display describing Buckminster Fuller and his work."
Neither Peterson nor Grepstad think that Fuller would have been interested in saving the Dome for its historic value.
Klopp said, "Bucky was not nostalgic, he was someone who embraced the changing world we live in and was more flexible than people of his age… I tend to think Bucky wouldn't have been nostalgic about things but rather would have seen the need for evolution. That being said, the people who may need it are those other futurists who need to be stimulated in their thinking."
– Please like us on Facebook.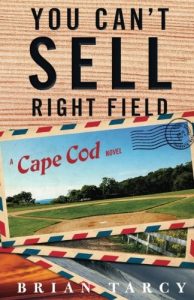 Please see, by Brian Tarcy of Cape Cod Wave
Based on a true story. A Novel about land, friendship and a softball team called The Townies —
YOU CAN'T SELL RIGHT FIELD, A Cape Cod Novel
SEE ALSO…