PROVINCETOWN – Paul Tasha, owner of a 32-foot lobster boat with no name, said his boat had to come out from the waters of Provincetown because, "The harbor master freaks out whenever somebody cuts a fart in Ohio. They wanted to get all the boats off the marina."
Mike Winkler, owner of the crane taking the boat out of the water, called Tasha "one of the classics around here," said, "He has a problem with his motor. There's a storm coming so we're getting him out now."
With the storm known as a bomb cyclone on its way, a 160 ton-crane, run by Winkler, owner of Winkler Crane of Truro, used nylon straps to lift the 12,000-pound lobster boat on Wednesday from Provincetown Harbor to a temporary resting spot in the town parking lot.
"Tomorrow a guy from Chatham is going to come and truck it to my yard," said Paul Tasha, the owner of the boat. Tasha lives in Provincetown. Once the boat is in his yard, Tasha said, "I won't look at it until March."
"Right now, I hate boats," he said. "They are a big pain in the nut. But they take you to work."
Tasha said his boat, a Ralph Stanley lobster boat, does not have a name because, "I never understood naming boats. I don't name my truck. I don't name my hammer."
Some guys name their boats after a woman, said Tasha, and then have a fight with that woman but still have to go to work with her. That whole concept seemed like a bad idea, he said.
"I never understood naming boats. I don't name my truck. I don't name my hammer." – Paul Tasha
Tasha said he hasn't been out on his boat in a month. "With this piece of weather coming, none of the boatyards could get here," he said.
Winkler's crane is in Provincetown to remove the big floats at the marina from the water. But he said he was waiting on that until after the storm. In the meantime, he was helping Tasha get his boat out of the water ahead of the storm. "He probably wouldn't have survived the storm," said Winkler.
He described the job of lifting Tasha's boat as "easy." Asked for something more difficult, he said, "I lifted a dragger that sunk."
Winkler said that his cranes travel all over New England. "Right now we have two on Nantucket," he said.
And although the huge crane is not really needed to get Tasha's boat out of the water, Winkler said, "It's usually the way I put my boats in and out. It keeps the salt water off my truck and trailer."
– Please like us on Facebook.
For more photos from across Cape Cod, please see Scenic Cape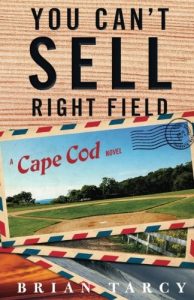 – A Novel By Brian Tarcy of Cape Cod Wave
A softball team called the Townies. A slick developer with a sketchy story. A town divided over a zoning change….— YOU CAN'T SELL RIGHT FIELD, A Cape Cod Novel