WELLFLEET – Chris Blood is a sound guy.
He stays up late and turns knobs and makes many people happy. He moves levers. He pushes buttons. And he talks to and deals with bands, often the best bands on Cape Cod.
He is not just a sound guy. He is perhaps the sound guy on Cape Cod, having worked for the legendary Cape band, the Incredible Casuals, the most famous Cape beach bar, the Beachcomber, and Payomet Music Tent, which hosts world famous acts, among others.
And as a sound guy, he works with musicians, something that is not always easy, according to Lou McMurrer a stage manager and sound guy who has worked for decades with Blood.
"It's hard working with musicians on a regular basis," McMurrer said. He answered the follow-up 'Why?' question with a pause and then said, "because they're musicians. I don't know how else to explain it other than they have their own set world and Chris has been dealing with it for a long time."
McMurrer added, "I've only seen him get mad once."
While that anger was an unusual blip, McMurrer said it was Blood's professionalism, steadiness, and technical talent that kept him doing sound on the Outer Cape for 30 years.
"He's a really good studio engineer but he's an amazing live engineer," said McMurrer. "He can make just about anybody sound really good."

The DNA Of An Artist
Blood, 59, of Orleans, spent his first 14 years in Darien, Connecticut, a place he alternately called "a typical suburban town," and a place where kids in high school found their entertainment by "driving around and shooting at mailboxes."
He did not like Darien, or the other little Connecticut towns he moved to during his youth. "It was not tolerance-oriented down there. It was more prison-like," he said. "More regimented."
His father, William Bourn Blood, was a New Yorker, an equity actor and screen writer and his mother, Ruth Fitts Blood, was "a free spirit," he said. They were divorced when he was 10. His father lived in New York.
While the culture of the small towns he lived in while in Connecticut did not interest him, his parents were artists who were interested in music and theater and so he was exposed to such things at an early age.
His father had money, he said, but his mother, raising three kids, did not. Blood, the youngest, has an older brother, David, and older sister, Lois.
"After my mom got divorced, we had a big house and no money," he said.
Blood remembered "crazy parties," and being raised around the arts.
There was actually a dixieland jazz clarinetist their mother knew when they lived in Connecticut. "He was from Liverpool, England, and he gave all three of us guitar lessons. His name was Sammy Rimington."
Rimington, contacted in England, remembered the family and recalled teaching lessons to Chris, but did not recall details other than that his mother "used to come to my concerts. She was very nice," said Rimington.
Blood learned some guitar, some bass and some trombone. And even though he remained interested in music, he dropped playing all instruments before his mid-teens.
His mother was "very supportive of me and all my friends. She ran a youth program at our church and always had an open door. The stray kids from the neighborhood would end up at our house."
It was almost a bit of foreshadowing of her role later in the lives of the musician friends of her son, Chris.
The family moved to Orleans when Blood was 14. "It fit us," he said. "We were very pleased to be here. I made fast friends… When we moved here it was a revelation that there were more intelligent people in the world."

An Accident Of Discovering Self-Education
He went to Nauset High School. "I did terribly academically. I was more interested in anything else (other than classes)," said Blood. He was on the chess club. "I am pretty good at chess, but I'm not a grandmaster or anything."
He was enamored with sports cars and had even put together one working vehicle out of three junk Volkswagen bugs.
On New Year's Eve of his senior year in high school, he was driving his yellow Volkswagen bug convertible when a drunk driver cut him off on Main Street in Orleans.
"I broke my arm and severed a nerve in my arm," he said. He had trouble writing for the next year. "I had a nerve transfer that failed. And a tendon transfer that was successful. I had therapy after that. That derailed an immediate trip to college."
Blood graduated from high school in 1975. When he did, he was still recovering from his accident.
"The whole experience made me think I could spend my life learning and not go to college. So I never went to college. I relied on vim and vigor."
Shortly after graduation, he hopped on a train and went to Philadelphia for one of visionary Buckminster Fuller's World Games workshops. "It was me and a bunch of city planners. A bunch of idealogues trying to change the world. It was a week of speeches and three weeks of workshops."
By the time Blood left Philadelphia, he was a changed person. "The whole experience made me think I could spend my life learning and not go to college. So I never went to college. I relied on vim and vigor."
He moved for a year back to Darien, where he still had relatives. He spent a year re-learning to use his hand, with different tendons, and visiting with his father.
After a year, he moved back to the Cape. As for the injury: "I haven't fully recovered," he said. "I have 50 percent potential in my left arm. Half the muscles don't work."
But his mind had been activated.

The Crossroads of Music & Technology
"I got my first computer in 1976," said Blood. "I was mainly drawn to computers. I also realized that digital audio would be a thing, and it was fascinating."
And then he met a friend of a neighbor who had a crude digital delay flanger, which allowed for sound repeats, echoes and more. This friend of a friend allowed Blood play with his old equipment every time he upgraded.
"That's the tragedy or wonderfulness of my life, depending on how you look at it," he said. The way Blood looks at it is that he was set on a course of a career of helping musicians sound better.
He was certainly enamored with the expanding possibilities of working with sound. But Blood was just as in love with emerging technologies in all areas. "I was an early adopter and I should be a millionaire because of all the skills I did not exploit because I kept getting dragged back into rock and roll."
But when he wasn't being "dragged" into rock and roll, he worked for local engineering firm doing software development. "I used to pay Shawn Fanning (the Cape Cod-raised developer who created Napster) eight bucks an hour."
Among the things he created, Blood said, was a website that had rentals listed based on availability. "There was nothing like it at the time. I let that slip through my fingers."
He landed a job at a private ocean research firm in Falmouth. "They did sub-bottom profiling, acoustic path flow meters for dams. They were an acoustic engineering firm." He was hired at 19 years old as a "computer room lackey," he said.
Around this same time, a studio engineer from New York bought a summer home in Eastham and decided to open a recording studio. Blood answered a classified ad and was hired to help get an old mixing board working in Eastham. The board got working fine, said Blood, but the business "didn't work out that well."
"The owner's idea was that I was to recruit prospects and record them and make money," recalled Blood. "It was winter on Cape Cod. There were not a lot of prospects."
But the studio stayed around for a year and a half, said Blood. It was enough for him to learn a lot, including about microphones and microphone techniques, and to see the 'Y' in the road between music and technology.
"I chose music," he said.

Becoming A Sound Guy
He got a job working for a jazz band, which was a couple of Berklee School of Music graduates who called themselves, the Rainy Day Lounge Lizards. "I was 19, and I was their sound man," said Blood.
Around that time, Blood's guitar-playing brother, David tried out for a local band but decided it was not for him. However, he knew another guitar player from back in Connecticut who turned out to be perfect for the band.
The band, which included Danny Parkington, father of the now-famous Parkington Sisters, was called Andromeda, said Blood. "They had violin, guitar, bass and drums. They had a lot of alternate time signatures. They were enamored with complex, complicated jazz rock," he said.
The band started practicing and working on material in Blood's basement. "I was fascinated with sound equipment and i was trying to put together a PA system and a recording system," he said.
Blood became the sound guy for Andromeda, which had "a handful of gigs" including on Nantucket and some communities in western Massachusetts, said Blood. It turned out that the bass player's mother worked at the Brewster Sea Camp, where the son of a New York songwriter for a famous children's program went to camp.
That connection, Blood said, led to he and the band being invited down to New York. "We went to his office above Carnegie Hall. It was a spectacular place," said Blood.
After listening to the band's tape, the writer invited the band down to New York again to "to record a proper demo," Blood said. "They flew us down, met us with a limousine, and then we went to audition at CBS studios."
Immediately after that, said Blood, the band "severed ties with me."
After that trip, "they rented a truck and came and got all of their equipment," he said. "I was devastated."
Blood said, "I did not make a good impression" on the songwriter from New York. "The whole thing crashed and burned."
Years later, Blood said, he remains friends with most members of the band.
At that point, he said, "I tacked towards computers." He got a job as a technician with a local computer store fixing and installing computers.
"I thought me and my friends from Andromeda were the only music people on the Cape When I met Chandler, I realized I was woefully mistaken."
And then he met Chandler Travis, founding member of the Incredible Casuals.
"I thought me and my friends from Andromeda were the only music people on the Cape," said Blood. "When I met Chandler, I realized I was woefully mistaken."
At the time, Blood recalled, Travis was in a band that was something of a predecessor to the Incredible Casuals, The Susan Anton People.
They met through a mutual friend, said Blood.
"He was just a local guy in Orleans," recalled Travis. "Musicians tend to flock together. He was working for a band called Andromeda."
Blood recalled meeting Travis, guitar player Steve Shook, and drummer Rich Bates and being impressed by their extensive musical knowledge and eclectic record collections. And Blood remembered being impressed by Bates knowledge of recording.
Travis said, "We were both doing the usual partying kind of stuff."
At the time, their musical tastes were different. Travis was friends with NRBQ, whom Blood had seen in Connecticut and initially "hated them," he said. "I was into jazz rock, and they were not."
But then, as the Susan Anton People evolved into the Incredible Casuals, Blood became the sound man for the band. "It was kind of informal at first," he said.
Decades later, Travis said, "I've worked with Chris forever."
"They just started calling me when they were doing shows," said Blood. "They'd go to Boston, Gloucester, and I'd tag along and be their sound guy."
He was their sound guy, and then he was not.
The band dropped him for a couple of years in the early 1980s and hired Bill Rahmy, before Rahmy went West and ended up working for bands such as the Red Hot Chili Peppers.
"That was a long winter," said Blood of when he was first let go by the Incredible Casuals. "I was broke and had nothing going on. I got a job painting boats in Chatham, but that was seasonal and would go away in mid-July."
He planned to save his money, move to Boston and get a job in technology.
"And then the phone rang and it was someone I had met when I was working with the Casuals," said Blood. "It was B. Willie Smith, a skinny tie R&B band from Connecticut.
The band flew him to the Hot Tin Roof on Martha's Vineyard, where they were playing. The Hot Tin Roof was owned by Carly Simon. And the band "offered me more money than the Casuals had been paying me. So I took the job," he said.
"When that phone call came and they flew me to Martha's Vineyard, I got totally dazzled," said Blood. "It probably wasn't a good decision. But it was fun before it derailed."
He found himself in Connecticut "driving around to all these seedy dive bars," he said. He did that for about a year while the band had some success, opening for Southside Johnny, NRBQ and others.
Blood was based in New Haven for the weekend gigs around Connecticut, but was coming home to the Cape Sunday to Wednesday every week.
After a year of traveling to dive bars in Connecticut, Blood had had enough. "I was sick of being on the road," he said. So he "found them a replacement [sound guy] that was competent" and he moved back to Cape Cod. "I didn't want to waste my time on the highways of Connecticut anymore," said Blood.

Incredibly Casual On The Beach
Shortly after Blood returned to Cape Cod, Rahmy left and the Incredible Casuals hired Blood again.
Blood was also working in a computer store. "The Casuals didn't immediately take off," he said.
Through the years the band went through different iterations with various lineups. "When Steve Shook was in the band," said Blood, "it was a different kind of a band. It was old school ska. He never played a guitar solo. He was the master of chords."
While the Incredible Casuals could and probably should be the subject of a book, Blood's story runs parallel to it. In some ways, Blood's is the story of his dedication to this one band, the band's dedication to one beach bar, and Blood's career with that beach bar.
And with the band working hard, it began to take off. And it turned out, said Blood, that one of the owners of the Beachcomber, a bar at Cahoon Hollow Beach in Wellfleet, was friends with Travis, and the band was booked to play every Sunday for 25 years.
Blood, who now works for the Beachcomber, said, "The Beachcomber is kind of unusual." If Travis hadn't been friends with the owners, he said, "the Beachcomber would have been just like the Mill Hill Club, with the same dreadful cover bands."
Blood said the 80s were full of "cultural whiplash." Some clubs on the Cape, he said, "had line-dancing." He recalled when a club owner referred to bands that did original music as "Cambridge music."
But over the years, the Beachcomber became a something of a mecca of original music. And Blood has been there a long time. Bands like Bim Skala Bim have been coming there for decades.
For a quarter of century, he had the steadiest and coolest gig on Cape Cod – Sundays at the Beachcomber with the Incredible Casuals.
Over time, it evolved into more. The Casuals were getting gigs all over, and also bands would come down to the Beachcomber and Blood would be called to come help.
"At first it was individual gigs. After a while, with more and more gigs, we just sort of formalized it," said Blood.
"For a long time, I worked at the Beachcomber nine shows a week, two afternoons and every night," he said. "During those summers, I was there every day."
"At some point, the restaurant got more serious and I became system administrator for the Beachcomber. I don't just do the sound," said Blood.
He continued to do computer work for others. "I was running the network for the national park service as a consultant. They tried to hire me but I was too much of a hippie to work for the feds," said Blood.
He stayed with the Incredible Casuals, and with the Beachcomber year after year. "The crowd at The Beachcomber stays exactly the same age year after year," said Blood. "But every year, I get a year older."
But there were some people he saw every year, such as those who work at the Beachcomber. "It's kind of like summer camp," he said. "I don't see them at all from September to May."
But beyond the staff, Blood said, when the Incredible Casuals played at the Beachcomber, "there were always some interesting fans. People would plan their vacations around the Casuals. Various celebrities would show up. Penn & Teller would show up."
For one year, the Incredible Casuals played twice a week, on Thursdays and Sundays, said Blood.
"It was this magical, resonant thing," said Blood. "People that came to see them were sort of self-selected. They were an interesting troupe of people."
The band played all over the Cape, all over the northeast, and even became popular in Japan.
While the Incredible Casuals could and probably should be the subject of a book, Blood's story runs parallel to it. In some ways, Blood's is the story of his dedication to this one band, the band's dedication to one beach bar, and Blood's career with that beach bar.
The road to being almost famous is complicated, sort of like their name, which surprised Cape Cod Wave. We have always love the band name.
"The name 'Casuals' kind of bit us in the ass," said Blood. "Loud, drunk and out of tune. It was this schtick. Unfortunately, some people didn't get the joke and thought we were a bunch of slackers."
Of course, Blood has worked with more bands than just the Incredible Casuals.
He's probably worked with every good band that has played on the Outer Cape. And there are many good ones.
Questioned about several of them, Blood had mostly kind words. But he brought up one performer in particular.
"Why isn't Steve Wood famous? He's a freaking genius," said Blood. "He writes wonderful songs. He's a powerhouse of lyrics and he's one of the best rock and roll guitar players in the world."

Almost Famous
"Like other kinds of art and culture on the Cape, there's a lot of aging hippies here. There's more interest in art and culture than there is in the general population," said Blood.
On the other hand, he said, "There is nothing logical about living here and trying to make it in the music business. It makes no sense at all."
Into that, came the Incredible Casuals at the Beachcomber.
"The Beachcomber was like golden handcuffs to the Casuals," said Blood. "We would play in Washington DC on a Saturday night and then drive home to play at the Beachcomber on Sunday."
"We would never go to California in the summer because we had the Beachcomber. We had to be home," he said.
Blood also said, "I loved those gigs. I miss them terribly."
The story of the Incredible Casuals took many twists through the years including Steve Shook, guitarist and songwriter, leaving and then later being replaced by guitarist and songwriter Aaron Spade.
Guitarist and songwriter Johnny Spampinato, whose brother Joey was in NRBQ, joined in the band when Shook was in it, and then years later also joined NRBQ while staying in the Incredible Casuals.
Rich Bates was known as Vince Valium, and then transitioned to a woman who is now named Rikki Bates.
Travis formed other bands.
Blood said his favorite version of the Incredible Casuals was when it was a trio of Bates, Spampinato and Travis. "I am a big fan of trios. The right number of guitarists in a band is one. It's the space between notes, not the notes, that make the music," he said.
But no matter how the Incredible Casuals evolved, Blood didn't just work for them. "I kind of worshiped the Casuals, frankly. I hate to say that, but it's true," he said.
McMurrer understands. He met Blood when he was also a sound guy, and the owner of a restaurant in Hyannis. He went to see the band in, of all places, the Mill Hill Club.
"I sidled up to Chris at the sound board and I just started talking to him," recalled McMurrer.
"I was completely impressed by them," he said. "They were way different than any band I'd worked with on Cape Cod."
While other bands would typically huddle around the drum set after a song to figure out what to play next, McMurrer said the Incredible Casuals "would play five or six songs in a row, not stopping."
"They would just go from one song to the next song to the next song," said McMurrer. "And when they stopped, Chandler would start talking and entertain people while other things were happening. You just didn't see that anywhere on Cape Cod."
"I could tell musically that they were far above any other band on Cape Cod," he said. Plus, he said, "They played 90 percent original music."
"They were pros. They didn't act like idiots," he said. "But they were idiots in their own way."
The band put out an album on Demon Records, founded in England by Elvis Costello. The album, "That's That" was released on Rounder Records in the USA.
Blood put it this way: "They had a remarkable bench in terms of songwriting. To have three singer/songwriters in the same band and all three of them very confident and able to sing songs. Years later, I discovered that was unusual. I've seen many bands with almost a whole singer."
A while after McMurrer met Blood, McMurrer said, "They were looking for a roadie and I was looking for work." He found himself working with Blood.
"We have this really sick relationship with the band, Chris and I do," said McMurrer. "Some days we just hate them. They're like babies. We roll our eyes and can't believe we spent all these years working for these idiots. But we have."
"Chris is one of the most even tempered people I've ever met in my life," he said.
They both kept working for the band despite the occasional difficulties, said McMurrer, "because Chandler is an amazing songwriter and a pretty mean bass player and amazing entertainer. Johnny is an amazing guitar player, in my list of top ten guitar players ever. And Rikki is probably the best rock and roll drummer I've seen in my life anywhere."
The band is no longer together.
Blood said of the breakup simply, "Time is cruel and over a long period of time, personalities change."
Like everyone, Blood evolved. He is married and has two children, Simon, 11, and Lucy, 14. His wife Susan works at the Wellfleet Harbor Actors Theater as a publicist, has a radio show on WOMR, a blog called "Trout Towers," and recently published a book called, "How Not To Do Things."
"When I had a computer store, she applied for a job," Blood said of how he met his wife. "Technically, she is still interviewing. I married her to avoid the lawsuit."

Sonic Trout, And The White Prince
At one point, Travis and Blood started a record label, Sonic Trout.
Blood recorded an Incredible Casuals Album, "Your Songs" and it was released on Sonic Trout.
It was recorded in Blood's basement, which was also the basement of his elderly mother, Ruth Blood. In fact, the band practiced for years in her basement.
"She let the Incredible Casuals rehearse in her basement for 25 years," said McMurrer. "I mean, c'mon, how cool is that? How many moms would let a whole band in, sometimes until 3 in the morning?"
Ruth Blood did. "Ruth Blood was one of the few people who, somehow, enjoyed having us play at their house," said Travis.
"She loved music," said Blood. "She was not necessarily into rock and roll, but she was into the spirit of it. She and Chandler were very close. He treated her as a surrogate parent," remembered Blood.
Because of the band's friendship and relationship with NRBQ, Blood recalled, "We had NRBQ in basement once."
So with the right equipment and a music fan living in the house, Sonic Trout was born.
It didn't work out.
They tried to recruit another musician, P.J. O'Connell, who was also friends with NRBQ, to be a partner. He had just moved to the Cape, and even put a CD out on Sonic Trout. He declined to join the partnership. "Chandler just shoots from the hip," explained O'Connell. "He's not an MBA or anything."
O'Connell, who Cape Cod Wave just discovered because of this profile of Blood, is a great songwriter, who used to have a band called, The Flying Pigs. He has also put out some fabulous solo CDs, featuring some members of the Incredible Casuals, including Travis, as well as with NRBQ. He is also a lawyer with a fascinating story of his own, but that's for another day.
After Sonic Trout formed, Travis started another record label, Iddy Biddy Records.
Blood said, "Honestly a record producer and a musician are not a natural partnership."
They had artistic differences, disagreements on what to put on the label, how long the process should take, said Blood.
Travis said he realized, "I could do it myself."
They kept working together on live shows, and still do. "Something in Chris naturally wants to help when people are trying to be creative," said Travis.
Travis recalled when he was working with Blood in the 1980s. "If you listen to music from the 1980s, it was one of the worst periods of listening to music. There was all this new equipment and we abused the shit out of it. Chris helped us do that."
"Chris has this love/hate relationship with Chandler," said McMurrer.
Blood said, "I'm richer for being associated with Chandler. But not financially."
He now has what he calls Trout Towers Casino in his basement where he occasionally live-streams bands such as the Sacred Mounds. He has his own YouTube Channel. Like everyone on Cape Cod, he's busier in the summers. "I had 34 shows in July," he said. He now does the sound at the Beachcomber, Payomet, and the Eastham Windmill.
"He's a legitimate bonafide producer," said O'Connell. "He produced 'Your Sounds,' (by the Incredible Casuals) which is a good record. He has the technical components down. I also consider him a musician. Not because he's a virtuoso. But because of his knowledge of music. He's listened to so much."
McMurrer emphasized how good Blood was at a live show. "There's a lot of guys out there that mix crap," he said. "A lot of times you can't hear the vocals or the vocals are the only thing you can hear. A lot of guys do not mix that well."
In the summer, Blood is totally focused on live shows. In fact, he doesn't record bands at home anymore, except for video live-streaming.
Blood pointed out that bass player Jon Evans, who has played with Tori Amos, Sara McLachlan and others, has a beautiful studio in Orleans, Brick Kiln Studios. "He moved to town, so why the hell would anyone record with me. He's a master, he's got all the right equipment, and he's really nice," said Blood.
"Anyone with a computer and a decent interface can record," said Blood. "The home studio is dead. Long live the home studio. In order to attract someone to a studio, you have to offer them something they can't do at home. Something architecturally, or something."
McMurrer said that Blood "is one of the smartest people I've ever met in my life. He's brilliant. He knows a lot about a lot of stuff."
O'Connell, who has known Blood a long time and met both of his parents when they were alive, said, "He's a curious fellow. He's interested in a lot of things. Occasionally we'll meet and have breakfast. He's well-read, erudite. You can tell his parents were artistic eggheads."
"I am a generalist," said Blood. "People dedicated to one particular skill generally outshine me. But I wouldn't be happy doing just one thing. It's just my nature."
He's even been known to get up on stage and sing with the Incredible Casuals, in an alter-ego called, The White Prince. It was a tradition every Labor Day, said Travis. "He's even put out two albums."
"I don't know if I can figure out a better way to say this, but Chris is the worst singer in the world," said Travis. "Think of Alfalfa from the Little Rascals, but his rhythm wasn't as good."
The songs were mostly familiar covers, said Travis. "There was a shining lack of musicality in his singing. And they were ambitious songs, difficult for people who can sing."
"He was definitely in on the joke," said Travis, who said the Casuals stayed together the last few years just to do White Prince performances. "The last five years, the only things we practiced were the White Prince songs," said Travis.
Blood said, "It's a little like jumping in cold water to stand up in front of a packed crowd at the Beachcomber and sing."
"It says something about Chris that he would do that for our amusement for so many years," said Travis.
Blood described his own singing as "grating" but said his attitude towards being lured on stage to sing was, "What's the point of fighting it. It was fun. They were fine with me having almost no preparation. That was one of the keys to my success."
He added, "I sang in a choir. I know about music theory."
Please like us on Facebook
For more stories like this, please see Longform stories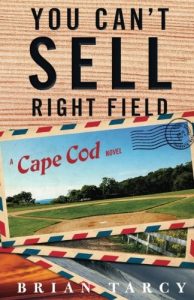 Please see,  from Cape Cod Wave: YOU CAN'T SELL RIGHT FIELD, A Cape Cod Novel