TRURO – Between a golden sunset over the dune cliffs of Longnook Beach and the sparkling calm of the Atlantic Ocean, Alice Gong and Kala Baltiev of Truro were hosting a beach volleyball game with their new friends from Long Island.
"We walked over and they were nice enough to let us play," said Joe Condenzio, who was visiting Truro from Long Island.
His son, Sean Condenzio, who has played some competitive volleyball, said, "This is a social gathering kind of thing."
Yes it is.
If you show up, explained Gong, you can play.
The net, explained Gong, belongs to a friend, Teresa Senichel, who got hurt playing volleyball. It has been up for several summers in different spots at Long Nook, said Gong. Some years, it had to be taken down every night because of its placement and the tides. This summer, she said, beach "has been conducive to letting us keep it up."
And so all day and every night in the summer, there is a volleyball net awaiting or hosting a game on one of the nicest beaches on Cape Cod, or maybe anywhere.
Joe Condenzio said there is beach volleyball on Long Island "but this is a more natural setting." 
Yeah, it's not all that bad.
"We play some volleyball, go in the ocean, take in the scenery, meet some new people, and drink a beer," she said.
Volleyball can be serious in Truro, said Gong. "The locals play indoors at the community center," she said.
But this outdoor game on Longnook Beach is something different, said Gong.
"This beach and this group of people is the reason why I love it here," she said.
When pressed by a jealous reporter about how she manages such a lifestyle, she said, "It took me a while to rearrange my life this way."
– Please like us on Facebook.
For more photos from across Cape Cod, please see Scenic Cape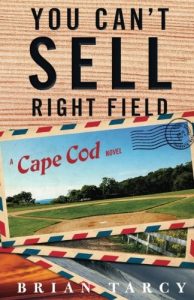 – A Novel By Brian Tarcy of Cape Cod Wave
"This is a terrific read. Brian Tarcy's style and sense of humor make it easy reading, while his subject matter is of more importance than most communities realize. If you care about growth in your community and the lack of thoughtful planning, you owe it to yourself to read this though