ORLEANS – Sarah Swain remembers being distracted by otters in the pond outside the window while recording background vocals with her drummer Liam Hogg at Jon Evans private studio.
"The whole thing is magical," said Swain, of Sarah Swain & The Oh Boys!. "There's a snuggly dog. It's just beautiful."
Swain is among the musicians, from both on Cape and off Cape, who have recorded at Evans' private rustic studio overlooking a little pond in the woods of Orleans.
Evans, who grew up in South Yarmouth, is a professional bass player who has played on gold records and toured for 13 years with Tori Amos. He also toured with Sarah McLaughlin, and records music for NPR including pieces that have aired on "This American Life" and "The Moth." He has appeared on several national television shows, including on the David Letterman show 14 times.
When he is not touring or recording, he is home in Orleans working in his private studio where Swain was pleasantly distracted by playful otters. It's the same place where Schuyler Grant remembered "his dog Copley fell asleep on my feet while I was doing vocal takes."
And the room, which used to be a solarium, is where Jake Bautista, of Harwich, recently recorded an original song, "Good Word."
"Jon's studio is kind of refreshing," said Bautista, who said he has recorded in college at Berklee School of Music as well as in several other studios including "a strange haphazard studio in Times Square."
"Most of (the others) were either in basements or very isolated places," he said. "It's just a pleasant space. Sometimes when you're in the studio for a long period of time, you need to step away. But there, it was kind of nice."
---

** Please support independent local journalism.
See the DONATION BUTTON AT THE TOP OF THE PAGE **

---

Jake Bautista's Song
One day in early December, Bautista, his bass player Rick Barry and his drummer Richard "Dicky" Buck came to Evans' studio to record Bautista's original song, "Good Word."
There were no otters to be seen in the pond that day. But through wood-framed glass windows of the 25-foot by 12-foot room with 16-foot high ceilings the wind made slight dancing waves that continually roamed the pond.
Bautista, a native of Los Angeles and a graduate of Berklee School of Music, wrote the song on guitar two years ago. He was living in L.A. at the time when "the chorus and the verses all just kind of came to me," said Bautista, who said he hopes to join the festival tour.
Barry, who met Bautista at the Eventide Songwriting Contest, put on by the Eventide Theatre Company of Dennis, urged him to record the song. "He's a natural," said Barry. "He should be a star, or a name anyway."
Evans is a judge of that contest, along with Swain and singer/songwriter Monica Rizzio. "I've been a fan of Jake's [since the songwriting contest]," said Evans. "He was a real standout among the entrants. He has an interesting voice, and creative songwriting and lyrics," he said.
"He has a modern harmonic sensibility," said Evans. "A lot of his lyrics are really personal, which really helps with the gravity to the song."
While there is a significant fee to record, Evans said, "I work with people I want to work with rather than have a shingle out." Artists who want to record with him can contact him at his website, jonevansmusic.com, said Evans.
Watching Bautista record his song was a tedious day as the song was built, or at least as all the elements of the song were built.
It was also a big deal. Going into a studio to record a song, as Swain said, "You do get amped up. The whole band is feeling the same."
And so it was with Bautista, Barry and Buck. "I've recorded enough that I'm both comfortable and excited," said Bautista.
Grant recalled, "Jon has this way about him to instantly put you at ease. His studio is no different. It's an extension of his personality. It's a beautiful space with an incredible view of the property."
It started in the driveway where guests were greeted by Copley the dog, Evans' friendly 4-year old yellow lab. Walking into the solarium, the rustic wood and brick floor attracted attention in the same way as the high ceilings and walls of glass. It was so inviting. And then out those windows was a  little pond with waves of wind dancing across it.
It became time to make music.
It started with Bautista playing the song individually. Then it was recorded live, with Barry, the bass player, and Buck, the drummer, each in a different soundproof room while Bautista played in the solarium and Evans was in the upstairs loft listening near his mixing board.
Then each musician did several takes of their own part, while Bautista did some vocal takes. Here is a video of his first vocal take just because his voice is so good and it's interesting to watch without any music for comparison to the finished product:
With some slight variations, they played that one song again and again. The first version came in slightly under four minutes after all the initial decisions were made.
It changed, then changed again. "Jon had the idea to add an electric guitar going through a Leslie speaker creating a big swirling sound," said Bautista. "It added a nice layer to the song we would not have thought to add," he said.
The session moved chronologically, but not exactly in linear fashion. There were starts and stops. Evans went down his wood stairs to the long, narrow, high-ceilinged solarium to coach, tweak and encourage. There were treks upstairs by the band from the brick floor below to the black leather couch above to listen to what was just recorded while Evans made tweaks on silver nobs.
There was pizza. Trying to get the band to slow down, Evans told a lighthearted dirty joke about a young bull and an old bull and a field full of cows.
"He has a very light touch," said Chandler Travis, who has recorded in Evans studio with other musicians as well as contributed to Evans' work on music for video games. "He's very not edgy. He's very relaxed and not pushy. He also listens."
"It was a lovely experience," said Bautista. "He was very easy to work with in a musical sense."
When they finished for the day, Evans said 80 percent of the work was done. "Eighty percent of the work takes 20 percent of the time. The last 20 percent of the work takes 80 percent of the time," said Evans.
That last 80 percent of the work involves the mixing of the song, said Evans. In the case of Bautista's song, Barry took on the task.
Barry said, "This kind of collaborative mixing recording thing is one way people do it – because in many cases the bands have Pro Tools and can do mixes and adjust things after but you need the right room, the right mics, acoustics, and the right guy – an organized pro – to do the recording properly up front so you have good data to work with."
"Jon's detailed prep of the tracks has really been huge for us," said Barry. "He's extremely rigorous in how he does things like align tracks and name things and organize them. It makes picking up the collaborative project pretty seamless."
"At the end of the day," said Evans, "it doesn't matter who does what. It either sounds good or it doesn't. It's not my record. Everybody has their own opinion. Every stereo sounds different. You don't realize it until you start listening intently. And no one does unless it's their own stuff."
But Evans said that is one of the difficulties of mixing a song is considering people's various listening environments. "I challenge you to listen to your favorite song, something you know really well, and listen to it in different listening environments."
"You have to take into consideration more so now than ever because people are listening on ear buds, a crappy laptop or their phone," said Evans.
The final mix on Bautista's song was finished about one month after the song was recorded. This is it: "Good Word" By Jake Bautista.
Grant described Evans as "a phenomenal talent with an incredible ear."
And Swain said, "He sets the tone. His whole vibe. He is so focused… He has this magical ability to squeeze the best performance out of you."
Swain said that Evans musical talent is obvious. "You think you're a musician and then you hear Jon play and you're like, oh, that's not what I'm doing," she said. "You can see why he tours with some of the most incredible acts in the world."

Jon Evans, Bass Player
Evans began playing bass at the age of 5 when he was given a small bass.
His father owned Ellis Market in Orleans, which is now Friends Market. "He was a butcher by trade, and a recreational drummer," said Evans. "He had band practices in the basement when I was a little kid."
From as early as he can remember, Evans always wanted to play bass. "It just made sense to me," said Evans, who grew up listening to Ray Charles and Aretha Franklin and other classic 60s R&B, as well jazz legend Dave McKenna.
"I just heard it in recordings," he said. "I just heard the bass more than anything else. It always resonated with me," said Evans.
He began playing with the school band when he was 8. He took up trombone to play in the marching band. He was on a tennis team. But his goal was to be a musician. "I always wanted to be a musician," he said.
"I made myself practice a lot. My parents were really encouraging," said Evans. "It was more encouragement than pressure. I had music lessons at the Cape Cod Conservatory as young as I can remember."
In high school, he was in "a lot of different bands," said Evans. "I still have several full page spreads from the Cape Cod Times from bands when I was a kid. It's slightly embarrassing."
All along, he was on a path to Berklee School of Music. "It was a pretty straight path," he said. "It was the only school I applied to."
He arrived with no plan other than to graduate. "Berklee was a little bit terrifying," said Evans. "You are thrown in with so many people who are so much better than you."
And so rather than living a typical college student's social life, Evans said, "I doubled down and spent those four years practicing a ton. I'd practice eight to ten hours a day."
In school, his plan after graduation was to move to New York City and be part of the music scene there. But he said, "I needed three or four years to shed." So he moved to San Francisco. That was in 1991. He stayed for 20 years.

The San Francisco Scene To The Biggest Stages
"There was such a great scene there," said Evans. "I met a ton of people."
"I was pretty much focused on playing as much as humanly possible," he said. He started going to jam sessions, bringing mostly an upright bass. "I got into a house band in one of these sessions. These were brutally long gigs that paid horribly." But he met people.
He met and toured with Linda Perry, who had been the lead in 4-Non Blondes. They toured Europe and the USA, and were the opening act for The Who's "Quadraphenia" tour. "It was pretty exciting. I got to meet Roger Daltry and Pete Townsend. I got to play through John Entwistle's amp," said Evans.
And then he auditioned for Tori Amos. "I got that gig in 1998. I played with her for the better part of 13 years. All her albums and tours." He played in Madison Square Garden, the old Boston Garden, and on "all the TV shows."
Evans said he felt incredibly lucky but added, "Luck's an easy word to throw around but I think timing is a better word, and perseverance."
"You have to figure out what you want to be and be true to that," he said.
"Luck's an easy word to throw around but I think timing is a better word, and perseverance." – Jon Evans
Evans is not interested in leading his own band. "I am most interested in being a sideman. I like helping people get their music made, whether that is on a gig or a recording," he said.
"I never thought I'd be on big stages or television shows," he said. And yet he has also done TV shows with Cher and sessions with Elton John. "It was not part of my grand design," said Evans. "I just wanted to be a good player, play with lots of different people and lots of different styles and have that be my lifestyle."
But doing what he did in San Francisco, he said, "I was able to make a couple of connections and capitalize on the opportunity."
He lived for eight years in San Francisco, and 12 years in Oakland. Sixteen years ago, he married his wife, who is from Boston.  After 20 years on the West Coast, "We wanted to change our life and not be in the city anymore in that ultra urban environment," he said.
And so with his mother and family still on the Cape, in 2011 Evans moved to the woods of Orleans.

A Recording Studio On Cape Cod
"I had a recording studio for over a decade in Berkeley, California," he said. "Coming back here, it was logical that I would do that on some level."
When Evans bought his house in the woods, one reason was because there was a modern addition, a solarium. "It was instant," he said. "You could just see it."
Turning the solarium into a studio didn't take too much work. "I had to rebuild the entire glass front, and the isolation rooms," he said. But otherwise, the setup was good.
"I try to make it feel like they are not in a studio. It's a very comfortable feel," he said. "You don't feel like you are being stared at through some glass window."
In setting it up, he took his own experiences into account. "My favorite recording experiences were in a space that felt less like a lab and more like a place that is comfortable to be," said Evans.
Swain said, "In the past, we had always gone to Boston. But after seeing Jon's studio, it was, oh my God, we have it all ten minutes down the road. I can drop my kids off at school, get a coffee and go to his studio."
Swain added, "With Jon there, you couldn't ask for a better engineer or producer." And given the tedious nature of recording, Swain noted, "He has the ability to get you to do something 20 times over again and not break your spirit."
Grant said he was shopping around for a studio in New York when he first reached out to Evans. "He was the sort of talent I was looking for while I was shopping in Manhattan," said Grant. "I couldn't believe I found someone like that on the Cape."
And, Bautista added, "Jon makes a damn good cup of coffee."
For more stories like this, please see Longform Stories
– Please like us on Facebook.
---

** Please support independent local journalism.
See the DONATION BUTTON AT THE TOP OF THE PAGE **

---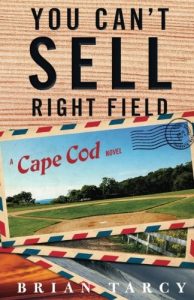 –PLEASE SEE You Can't Sell Right Field,  a novel from Cape Cod Wave about land for sale, a crooked developer, a softball team called, "The Townies," and an election.
Based on the true story of a Cape Cod development.